botanischer garten
Today, I went to check out Graz's Botanical Gardens. It was very difficult to get into the greenhouse because at the entrance gate, there is a sign to enter at the side gate. Once you're in the side gate there are a number of (WRONG) doors that lead you to offices and conference rooms. I finally figured out that to get into the entrance of the greenhouse, you have to walk around the entire thing first and get back to the front! There are no signs to indicate this, by the way, you're supposed to figure it out on your own. Anyway, the inside was not as impressive as I might have imagined. There is some landscaping and some fantastic examples of what happens if what we know as a houseplant is allowed to grow in the proper evironment – they usually turn into big, big trees!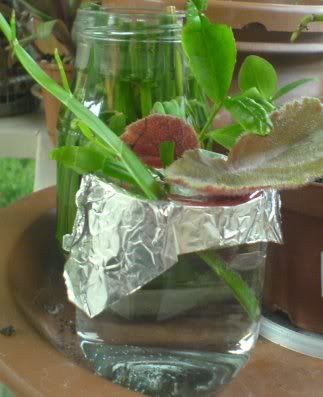 I did, however, come a way with a little collection of my own. I asked if they had any plants for sale, but they do not. Actually, they looked at me like I was nuts or like I thought I was in a plant store, instead of a botanical garden. In the United States it's very common for a botanical garden to sell little cuttings and leaves to make some extra cash – I guess it is not so in Austria.
Anyway, I picked up a few stems and leaves that fell off as I brushed past them. The little glass contains pieces of: Camellia Sinesis (green tea plant), Fire Stick (from a 20 foot tree!!), Button climbing fern, Begonia and some really bizarre multi-segmented tree leaf (don't know if that's going to grow into anything).